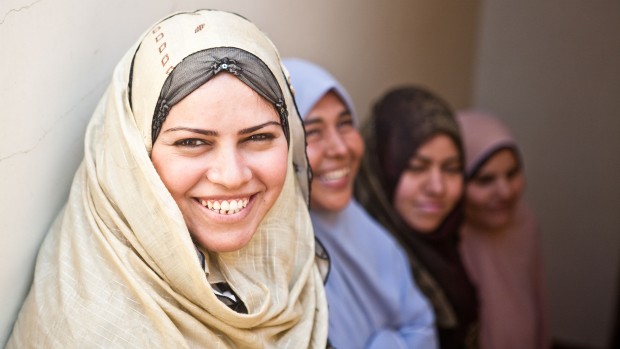 Middle East and North Africa (MENA)
In the MENA region Danmission is working with poverty reduction, church development and dialogue.
How is Danmission working?
Danmission's current work in the MENA region rests on the following four cornerstones.
Church cooperation, theological training and leadership training
Danmission supports local churches, church synods and Christian communities. The situation for Christians and other minorities in the MENA region is complex. That is why Danmission supports spiritual leadership training, economical work and diakonia.
Poverty reduction
The focus on poverty reduction and local development is following a right-based approach. When working with development of the civil society it is important also to increase the living standards. This can be done through projects focusing on agriculture, health, civic education, access to natural resources and equal rights. Direct poverty reduction will solely be carried out in Egypt funded by DANIDA.
Dialogue between citizens, cultures and religions
To build sound societies, dialogue is needed. Danmission contributes to building the capacities of civil society and religious institutions and adhering to the value of mutual respect and tolerance, through dialogue and peacebuilding activities. Read more about Danmissions dialogue work in the MENA region is funded by Danish Arab Partnership Program.
Humanitarian aid
Danmission is helping internally displaced people (IDP) and other victims of the conflicts in Syria and Iraq.
Why work in the MENA region?
The MENA region is currently going through a turbulent transition phase in the wake of the popular uprisings of the Arab Spring in 2011, and the future of the region seems unpredictable. Therefore, it is very relevant to support peacebuilding, development and democracy.
Religion plays a significant role in the current conflicts and can be a mobilising factor in terms of extremism and radicalisation. However, it can also be a factor in engaging people in playing a positive role in the society.
Religion is a platform for forming identities, social understanding and political perceptions. Religious leaders and institutions have to be fully aware of this impact, as they carry an important responsibility in shaping this platform. For this, religious leaders and institutions need support and inputs.
Danmission furthermore believes, that to create positive changes in the MENA region, youth – the majority of the populations – should be empowered and included in projects and decision-making processes in all aspects of public life.
The core competences of Danmission and our local partner organisations are interreligious understanding, capacity building, conflict resolution and peacebuilding initiatives combined with experience in contextual analysis and participation in extensive local and regional networks. This provides Danmission and our partner organisations with the potential to secure effective initiatives and responses within the overall objective of the DAPP programme as well as Danmission's strategy for our work in the MENA Region.
Where and with whom does Danmission work?
Egypt
In Egypt Danmission is working to promote the right to schooling, better conditions for girls and women, democracy and a strong civil society. Danmission has been working in Egypt since 1989 and since 2002 in cooperation with Coptic Evangelical Organization for Social Services (CEOSS). Together we are working with a combination of development and dialogue.
Furthermore, Danmission are working with the Anglican Church's development organisation EpiscoCare. The cooperation focuses on local development in marginalised and poor areas of Cairo.
Read more about Danmisison's work in Egypt.
Lebanon
Lebanon is a very diverse country, with 18 different religious affiliations. The civil war in Lebanon ended in 1990 and the society is still facing sectarian segregation. Moreover, the country is currently hosting a large number of refugees from Syria. Danmission is working for a more stable Lebanon by bringing different people together across religion, culture and ethnicity and promoting civil engagement, dialogue and democracy.
Danmission's regional representative is based in Beirut and Danmission is working in close corporation with our partners Adyan and Forum for Development, Culture and Dialogue (FDCD).
Additionally, Danmission is working with Near East School of Theology (NEST). NEST is an interconfessional Protestant Seminary serving the evangelical churches of the Middle East. Danmission is working with NEST to support the education youth leaders and Sunday school leaders to the different churches in Lebanon.
Syria
Since 2011 the conflicts in Syria have entailed that millions of Syrians are displaced in- and outside Syria. Danmission is working with the Greek Orthodox Church in Wadi al-Nasara (The Christian Valley).Since 2014 Danmission has been supporting the Church's relief work with internally displaced people. In addition to humanitarian aid, Danmission are supporting activities focusing on conflict resolution and interreligious dialogue.
Furthermore, Danmission is supporting FDCD's work with humanitarian aid and relief work and also the work to promote equality and dialogue between different ethnic, religious and cultural groups insideSyria.
Finally, a lot of Danmissions interregional projects in the MENA region have participation from Syria.
Jordan
Danmission are working with The Royal Institute for Inter-Faith Studies (RIIFS) and Al-Quds Center for Political Studies. RIIFS is currently a partner in Leaders for Interreligious Understanding and Al Quds Center for Political Studies has together with Danmission arranged two conferences on the topic of the situation of Christians and other minorities in the MENA region. Read more about these projects here.
URL: https://english.danmission.dk/project/middle-east-north-africa-mena/