Why did you become a volunteer?
Between the ages of 2 and 8, my parents worked for Danmission in Tanzania. I had therefore always dreamed of being sent out to do work abroad like my parents. I see this volunteer experience in India as the first step on a long journey.
What are you hoping to achieve as a volunteer?
I am hoping to find out more about India, experience the Indian way of life and hopefully gain a deeper understanding of the work Danmission is supporting in India. I'm also expecting that this experience will give me a new perspective on life back home in Denmark.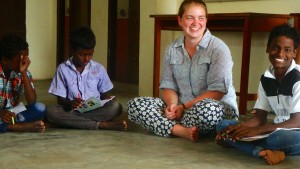 Ida Folmersen, 20, from Denmark is spending 3 months in Tiruvannamalai, India, where Danmission is working with the Arcot Lutheran Church.
She is volunteering at the Child Labour Centre, at a boarding school and at the Quo Vadis Dialogue Centre.