Danmission has appointed Kristian Sloth Petersen as new Secretary General . In him, the Evangelical Lutheran Church missionary organization will get a competent manager with solid experience within development, economy, innovation and public engagement. As a child of missionaries and an envoy the 48-year-old Master of Political Science is well acquainted with the reality and context in which the local church and Danish organizations work in Africa, Asia, and the Middle East.  
" It was a unanimous decision by the Board of Danmission to appoint Kristian Sloth Petersen and we are fully confident that Kristian will be able to create positive changes and innovation while building on the special historical contribution of Danmission as a faith-based organization regarding strengthening churches, interreligious dialogue, and improvement of people's livelihood" says Flemming Christensen, Danmission's Deputy Chairman. 
Kristian Sloth Petersen has among others been in charge of complex change processes in Mellemfolkeligt Samvirke when the organization became part of Action Aid. And he was Managing Director during the establishment of the big private Bestseller Foundation which was created to combat poverty through economically sustainable impact investments.  
Regarding his future assignment Kristian Sloth Petersen says: 
"Danmission should reach the population more broadly. It requires renewal, which at the same time responds to the challenges of the present as well as continues to build on onto the amazing 200-year old history of the organization."  
Danmission is Denmark's oldest and largest missionary organization. Danmission' s work is financed by private gifts and surplus from the 75 second-hand shops around Denmark, but it also receives substantial funds not least through its Strategic Partnership Agreement with Danida, the Danish Ministry of Foreign Affairs, and through support from the EU. The new Secretary General will be overall responsible for Danmission's projects abroad but also for strengthening the large network of volunteers in Denmark. And here he will be able to use his own experience from voluntary organizational work. 
To Tanzania as a 6-year-old 
"When I was 6 years old, I moved to Africa with my parents. I think my sense of justice was sharpened already there and I have used my grown-up life in transforming it into concrete work for a more just and peaceful world," Kristian Sloth Petersen says. 
"It has always been paramount to me that the means you as an organization are entrusted with from both private donors, as well as big donors, are used in the best possible way. In the voluntary work during my studies as well as during my later employments I have focused on both how to improve the livelihood for poor people and how to ensure responsible management of tasks and trust funds in an organization," Kristian Sloth Petersen says.  
Kristian Sloth Petersen, like Danmission, is strongly connected to the Evangelical Lutheran Church in Denmark and is a natural part of his local parish church. But he is also to be found at the local old boys football team. Football fascinates him, among other things because you need to be aware of both strategy, tactics, physical strength, fellowship and the joint effort. 
About Kristian Sloth Petersen: 
Born 

17th of November 1970 

in 

N

oe

rrebro

 i

n

 

Copenhagen

. 

As a child, he lived in 

F

aa

revejle

 

in Western 

Sealand

, i

n

 

Hammerum

 

near

 Herning, i

n

 Birmingham i

n

 England, i

n

 Tanzania 

and

 i

n

 Bangladesh.

 

Holds a MSc 

in Political Science from 

the 

Universit

y of Copenhagen

.

 
Employment

: Partner i

n

 Grow Consult, 

D

ire

c

t

o

r 

of

 Bestseller Foundation, 

Mellemfolkeligt

 

Samvirke

 (

posting as development 

worker 

in 

Kenya 

and Country Director 

i

n

 Tanzania 

and 

Mozambique) 

and UN's Development Programme, 

UNDP. 

Furthermore

,

 he has been chairman 

of the Danish Youth Council 

(DUF), 

and 

been a member of the board in 

DanChurchAid

 as well as in 

the Danish Missionary

 Society's Development Department 

(DMR-U)

 etc

. 

 

Lives in 

Bagsvaerd

, a suburb of Copenhagen

 with his wife 

Dorthe

 

Skovgaard

 Mortensen 

and their two teenagers

.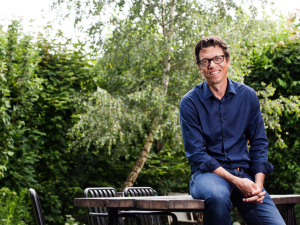 Photos: Carsten Villadsen