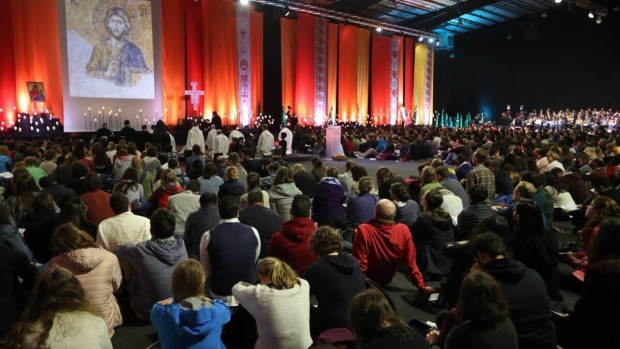 "Our unity is in our diversity"
1600 participants at an international ecumenical youth meeting in Lebanon conclude that their diversity is their strength.
Kirstine Thye Skovhøj,
Lebanon: In March, seven young participants from Denmark traveled to Lebanon to attend an international ecumenical meeting for young people. Danmission's partner MECC, the Middle Eastern Council of Churches, together with the Brotherhood in Taizé, had arranged the meeting, where 1600 young people from 43 different countries were gathered. The young participants stated that "Our unity is in our diversity". They met to create hope for the future and cooperation through dialogue.
Coexistence in Lebanon
Why was it necessary to have an ecumenical meeting for young people and why in Lebanon? There is a great experience of coexistence between various Christian and Muslim communities in Lebanon. The purpose of just gathering young people from the Middle East and the rest of the world in Lebanon was to introduce young Europeans to the traditions of Middle Eastern churches and the wealth of ecumenical relationships that already exist.
The Youth Meeting program focused on the Middle Eastern churches. The program consisted of joint prayer and joint reading of the Bible, excursions and dialogue workshops. When the meeting was completed, the seven young people met Danmission's employees in Beirut to share their experiences of the four-day meeting.
One of the Danish participants, Thea Brogaard, said that she learned to accept disagreements and differences among the many participants: "During my time in Beirut I have learned not to focus on our differences, but what makes us alike. It has been great to talk to other people about faith and Christianity and this experience also made me know myself better ".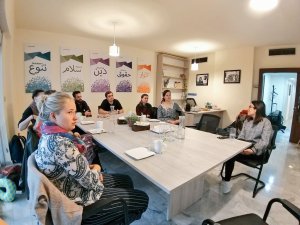 For Marianne Houmøller, it was a great experience during the Taize meeting to talk about the church's challenges and opportunities. A Syrian guy said that the biggest obstacle is the fear of losing and they are having many losses. "It affected me a lot to know how difficult it is to be a Christian in Syria. But together we still put our trust in God. The Syrian guy gave us a cross of wood made from the roof of the church, which was destroyed in Aleppo during the war. This touched me very deeply, and I saw it as a symbol of hope, trust in God, and that we are interconnected across countries ".
Hospitality during a well-organized meeting
The participants were hosted in private family homes or in churches in Beirut and here they particularly experienced Lebanon's warm hospitality:
"I have met beautiful people from different countries and Christian traditions. Staying with a Lebanese host family was a unique experience and I would miss their kindness and hospitality. Personally, I have expanded my perspective on the Middle East and the Christians living here. It has been a blessing to learn that Christians and Muslims live together. When I get home, I want to learn more about it, "said Ida Lykke Hansen.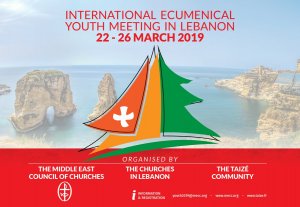 Rasmus Bolet was also impressed by the hospitality and the ecumenical event. He says that Lebanese hospitality was one of the highlights of the trip and that they felt like a big family. He concludes that the youth meeting was well organized and that he felt safe all the time. "Thank you, Lebanon, for this great experience," said Rasmus Bolet.
The logistics around the ecumenical youth meeting for 1600 young people has been a great task. Karim Skjærbæk agrees with Ramus's conclusion and says that from the beginning they were welcomed at the airport, everything was organized, the host family, the church and the Taizé community: "It was a great opportunity to unite and connect people. The kindness and hospitality were everywhere".
Friendships arise when people meet for good dialogue
Being a part of the international community during the youth meeting had good consequences for several of the Danish participants, because friendships arose despite the few days that the meeting lasted: "I really liked my experience with Taizé and how I could talk to everyone. They were open and interested, like Danmission's employees. Now I can say that I have friends from all over the world, even if it was only a few days, but it was intense, "says Iben Jørgensen about her trip to Lebanon.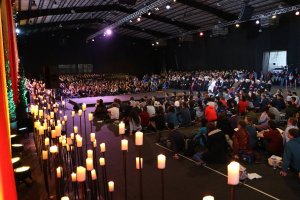 Mathilde Møller has previously visited Taizé in France and experienced how it is also a good experience. It was the first time she attended the youth meeting. "The youth meeting helped me discover new cultures and see the world and my life in it in a different way. In Taizé's spirit, I had the chance to meet people from all over the world and be in dialogue with them," says Mathilde Møller. The seven participants are well back in Denmark with good experiences in carry with them in the future. The "International Ecumenical Youth Meeting" was held on March 22-26, under the title "The Righteous Shall Grow Like a Cedar of Lebanon". The Danish group's participation in the Taizé meeting was a collaboration between Danmission IKON and Aalborg diocese.
Read more:
https://www.taize.fr/en_article24148.html https://mecc.org/concluding-ieym/
URL: https://english.danmission.dk/blog/2019/04/11/our-unity-is-in-our-diversity/