There is a hectic atmosphere in the little family center in Kirkuk. A woman with a boy on her lap is making gestures and yammering loudly in Arab. In the next room two women are sitting across from a social worker, while the social worker's boss is getting ready for going to the refugee camp Daquq to help a girl right on the verge of a forced to marriage. We are in the Northern part of Iraq. Visiting Iraqi Al-Amal Association, which has been Danmissions new – and first – partner in Iraq since New Year's 2018. Al-Amal is one of the countries oldest and most experienced humanitarian private organizations and will be part of Danmission's new work with dialogue in the war-torn country.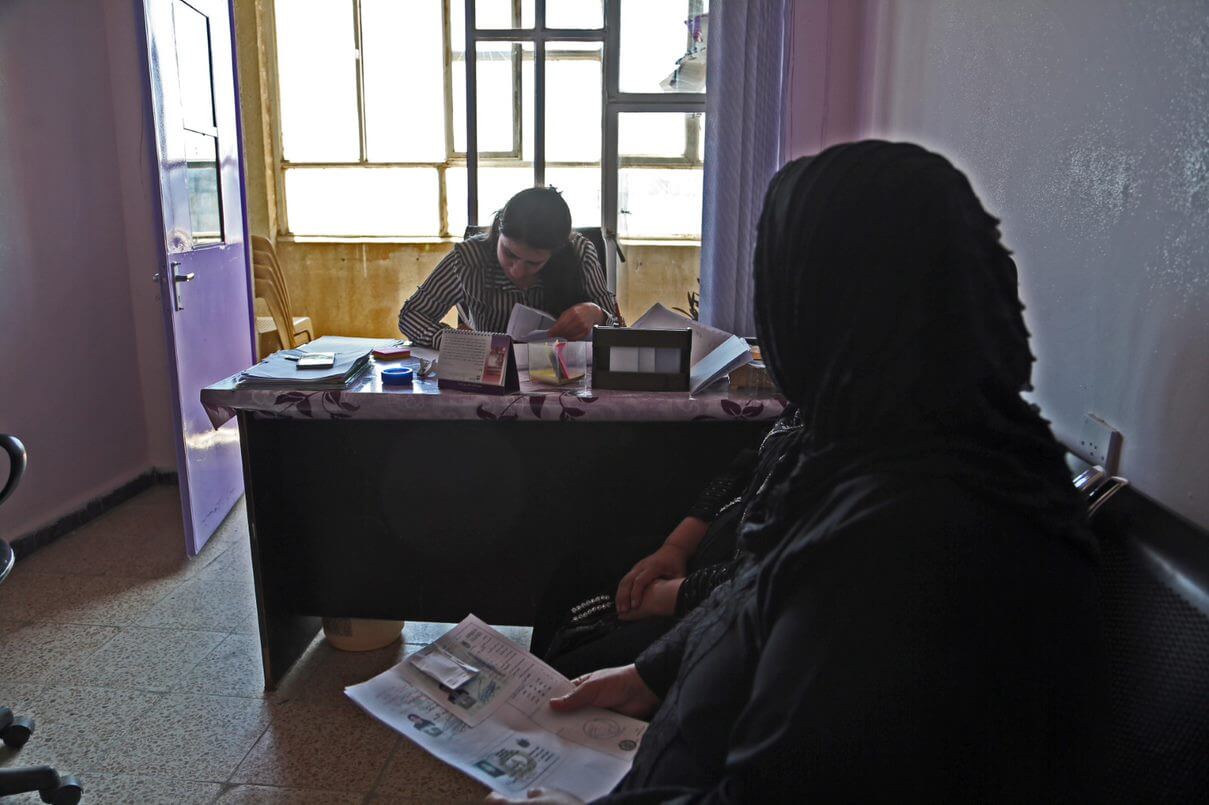 The project is part of a new grant effort in the Middle East supported by EU.
"Death and destruction, the obvious consequences of war, is not Iraq's biggest problem. The worst – and what we need to work for – is the change in norms, the behavior and culture", says Surood Ahma, leader of Al-Amal's office in the contentious province Kirkuk. She will now continue to Daquq.
Forced marriage and divorced women
Eight employees are daily working hard on the local projects at the Kirkuk office, for instance the family center, where women – widows, divorcees or ones wishing to be – can get advice and guidance. Here they have an emergency hotline and legal assistance and conflict management. Other projects are motivating and supporting women to start an independent business as a hairdresser, a tailor, a baker or chef. And this focus fits well into Danmission's wish to strengthen role models and promote peace and coexistence across of ethnicity, religion and culture. A coexistence that is also important in the close relations.
That is why Surood Ahmad takes us to a refugee camp, where she is trying to prevent at forced marriage. A father wants to marry away his 16-year-old daughter against her will.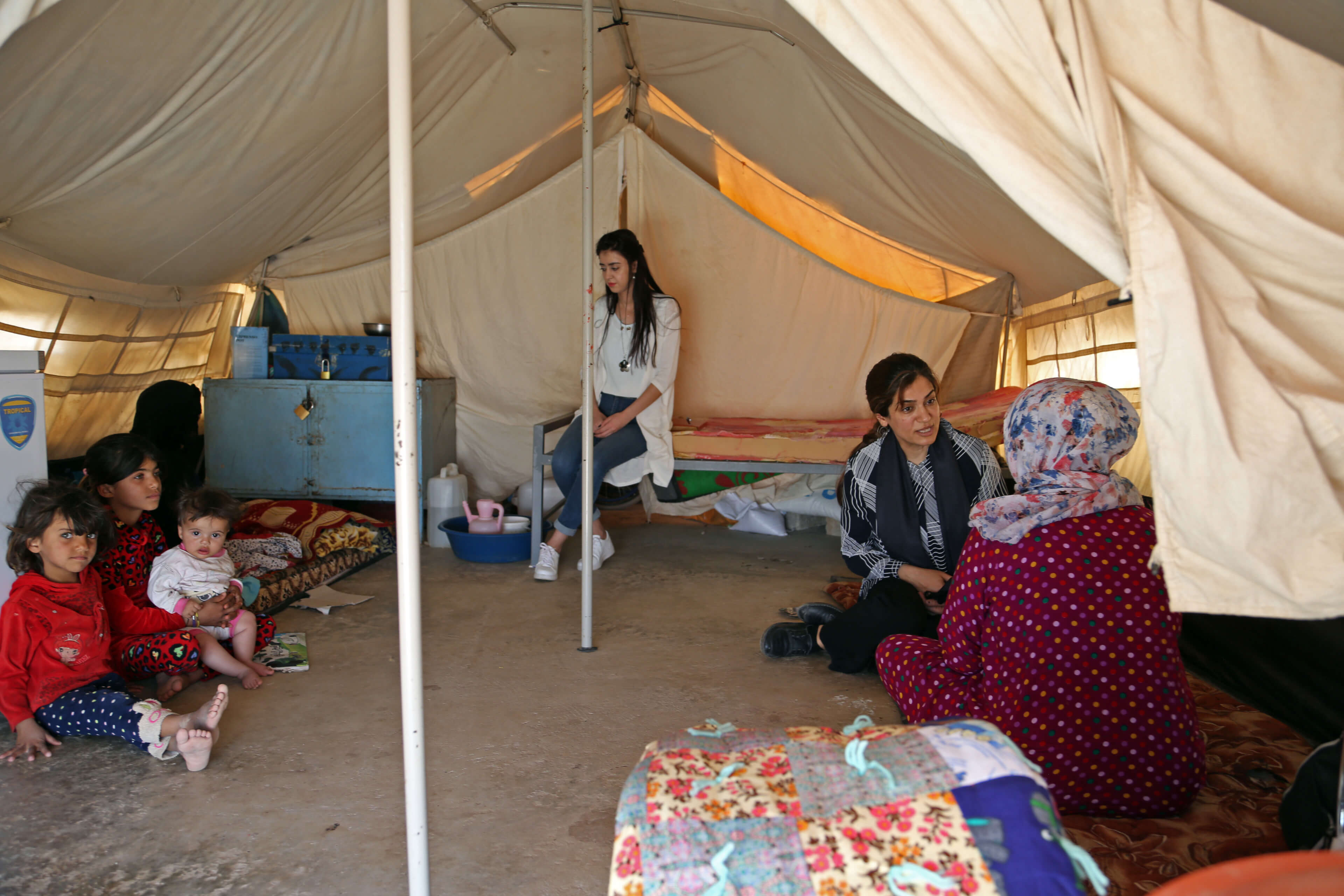 "I respect their traditions but I also believe that through a positive conversation and dialogue, you have the possibility to reach them and thereby changing their opinions. It is not just about preventing a forced marriage – it's about making everyone understand that both parts should be interested in a marriage", Surood Ahmad explains. She has a great hope for the generations to come. Especially for the women.
"The most important task is to strengthen the youth, especially the coming female leaders as they will be a sign of change. The new generation believe in change and change will come with them," Surood Ahmad tells us just before we reach the refugee camp. We meet the 16-year-old daughter in a tent along with two of the father's three wives, but not the father himself. But Surood Ahmad won't give up – and after two days the father gives up on marrying her away.
Getting people to the ballots
Several years of brutal war against Islamic State has worn out the country, economically and socially. A huge reconstruction work is awaiting them, both in terms of the broken buildings but also the relations between people – so they will avoid sectarian conflicts and new revenge spirals. Therefore Al-Amal is trying to mobilize the citizens – also on a political scale. One example is when the organization held election seminars before the parliamentary election the 12th of May. The participants received some tools to become "elections-ambassadors" e.g. seeking out internally displaced Iraqis in refugee camps to inform, engage and motivate people to go to the ballots. The goal is to make the Iraqis aware of their political rights so they can move from passive to active agents in their own country.
"Just like me, many people from Mosul no longer believe that political change is possible. They don't know enough about the political system and don't trust the process. We have been victims of ISIS for three years and lost so much,"says 23-year-old Naghraam Omary, volunteer from East-Mosul and participant in Al-Amals election seminar, he continues: "I want to take part in changing peoples mindsets and give the people of Mosul the knowledge that will enable them to participate in changing status quo. That's the reason I participate".
Naghraam Omary and the other "seminar ambassadors" have each held five meetings with around 50 attendants to engage the Iraqis in believing in and demanding change through a peaceful and political process.
We cannot do this alone
With their open-mouthed founder and persistent front figure Hanaa Edwar, Al Amal has gained influence for example in the constitution of Iraq and also on the law for private humanitarian organisations. And with a little help from Danmission, Al-Amal has been chosen by the Ministry of Iraq to rebuild and strengthen the peace studies on a number of the universities across the country.
"We are probably the oldest non-governmental (NGO) in Iraq with a grant and recognized experience. But Al-Amal cannot make a difference alone. We are always searching for new ways of developing the civil society. I hope that we, together with Danmission, who has the same goals and diligence can strengthen our common interests and make a difference together" says the female Chairman for Al-Amal.