Memories and prejudices. The potentials of silence and the big taboos. The talks were taken to a higher level when Danmission IKON facilitated a dialogue workshop for 25 students at the Diakon High School's professional education, Christianity, Culture and Communication.
By Lise Frank (translation Louise Marsk Kufahl)
Have you ever experienced lacking the tools for going into dialogue with another person?
The question hangs in the air for a little while. Then, a young, dark-blond woman in the crowd speaks up. "Yes". She has thought about the episode relatively many times since. It is more than 10 years since today. But an upcoming wedding in the family has made the event relevant again.
The woman tells everyone how she one Sunday in her teenage years met up at her grandmothers place very hungover. Smelling like cigarette smoke and with mascara under the eyes. She gets eye contact with several of her fellow students who smile and seem to relate. Then she adds to the story that her cousins, who had also come to visit on Sunday, are Muslims.
"I have wondered a lot about why. But I immediately assumed that they condemned that I had met up like this in our grandmother's home. It was my prejudice about them. I wish we had spoken about it that afternoon because today we are very far apart, and it might not have had to be this way, " she says.
This summer, her cousin Muhammad will be married, and she is invited to the wedding. Perhaps there will be an opportunity to talk and clear any misunderstandings. That's her hope.
Again, the silence spreads in the congregation at Diakonhøjskolen i Aarhus, where 25 1st year students at the professorship program Christianity, Culture and Communication participate in a dialogue workshop organized by Danmission IKON.
The necessary silence
The silence will turn out to be recurring and over time less awkward during today's workshop. Because silences in assemblies do not necessarily have to be embarrassing. In the inter- and intra-religious dialogue, temporary silence may, in turn, be decisive for the success of the dialogue.
Dialogue facilitator from Danmission IKON Ida Folmersen therefore also initiates an exercise where everyone gets five minutes to present one's life story to two silent fellow students. In the process of doing this, the students have had ten minutes to themselves and been equipped with a pencil to outline the people and events that have shaped their life. It may sound like a difficult task, admits Ida Folmersen: "But take a starting point in a house. Create a plan over the house. And for every person or experience that has influenced you, draw a new space, " she says. Another prerequisite for successful dialogue is to kn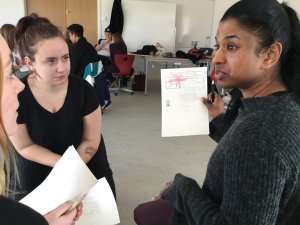 ow who you are.
The 25 students are divided into three enclaves.
A 34-year-old woman with Sri Lankan roots starts out from the group in the corner. Her drawing is complicated. Several floors are placed apart from each other, and as a result, one's curiosity is spiked, even before she starts talking. But as mentioned: The next five minutes should only be for listening.
"My mother is and has been a very central figure in my life. So, this room resembles her. She is not my biological mother though. I grew up in an orphanage in the Bahamas, which she and my father were driving. She is American. He is Danish ".
The woman makes a break. Her listeners smile and she continues her story. Her mother has been troubled by illness for many years, but her Christian faith has helped her maintain the joy of life. "That's why I started to believe," says the Sri Lankan adoptive daughter.

Is it embarrassing to mission?
The students' teachers on the 3K program are not present during the dialogue exercises. But returns to class over dinner. She is pleased to hear that the students have approached the exercises so openly. Also when they in three large groups were asked to express their views on the making of a mosque in the local area and asked to discuss this matter based on beliefs that didn't necessarily match their own.
The students at 3K-education are of course not entirely unfamiliar in debating faith and existence. 2/3 of them have a church where they feel at home. The last 1/3 part may be categorized as less personally invested but rather academically interested in questions about faith.
Ida Folmersen from Danmission IKON, has gained experience from a stay in India, with both the inter- and the intra-religious dialogue.
"For me, the intra-religious dialogue – that is, what is happening within my own beliefs – is perhaps the most important one. There are many Christians I disagree with," she says, and her experience seems to arouse recognition among the students.
Mission is, for example, a question that splits the group of young Christians at the Diakon High School. A dark-haired girl brings the topic up:
"I'm always a little embarrasse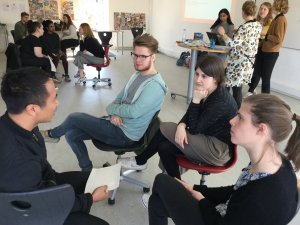 d by the talk of mission. On one side, I feel that it is my call to spread the gospel. But I do not want to be perceived fundamentalist, "she says. A fellow student nods acknowledging before she presents herself as cultural Christian.
"I am probably from a common Danish home. So, I also balk with the idea of mission. I do not like the thought of someone trying to convince me of something I have not asked to be introduced to. However, I feel like it's an offer, in the sense of an invitation, for example to come down to a church, then that's something else. But I must feel like it's okay to say no thanks, " she says.Many in the room support the idea of a Christian missioner to follow a "if you want" principle and never have to become a "hardcore repentance project" as one expresses it.