Palestine, Gaza, Egypt, Lebanon, Syria, Saudi Arabia and Oman. The list goes on, and there aren't a lot of places in the Arab part of the world that Line Stange Ramsdal hasn't visited, whilst she has both lived in Saudi Arabia and Lebanon.
Therefore it is no big deal to exchange her current address and the familiar streets from her childhood at Nørrebro in Copenhagen with a life in Beirut, and from the 1st of July 2018 take over the position. It is Maria Lindhardt who will pass on the position as regional representative who after nearly a decade will be returning to Denmark with her Lebanese husband and children.
As programme consultant for Danmission's projects in the Middle East since June 2015, Line Stange Ramsdal has worked closely with the organization's Middle Eastern partners. She has had many travel days but a base at the office in Hellerup. She is now looking forward to moving her office to where everything is happening in order to get closer to the political development, the cultural questions and societal affairs in the region:
"It is important for me to be involved and get my hands dirty, and in that way be able to develop and strengthen Danmission's work in the Middle East in a way that makes sense to the current situation in the region", she says.
Danmission was recently granted 12 million (DKK) by EU to continue and expand the organization's dialogue and peace-stabilizing work in Syria, Lebanon and Iraq. From her desk in Hamra, Line will be engaged in the unfolding of these EU-financed projects at universities in Iraq and among civil society actors in the whole region.
A childhood with cultural diversity
On a black/white photo from 1990, published in a community paper by Dan Church Aid, The Ecumenical Council and Danmission (earlier DMS), a four-year-old child sits by the piano. With her parents Kirsten Stange Ramsdal and Per Ramsdal, she has visited an Iranian refugee family in Aarhus to which the Ramsdal family was contact family for, and is still in touch with today.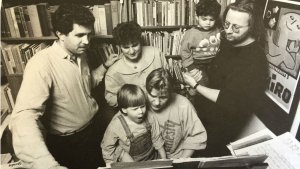 Many people would probably claim that they have grown up in similar multicultural environments, yet it can only be a few who have been introduced to such a wide spectrum of ethnicities and religious groupings at such a young age.
At the age of six the family went to Palestine, Gaza and Egypt due to her fathers job at Silkeborg Højskole. Her first visit to Lebanon was when she was only 10 years old. At a young age she therefore felt ready to explore Iran on a month long bus trip through Syria and at 25 she lived in Saudi Arabia for six months doing an internship at the Danish Embassy in Riyad. From there she travelled around in the Arabian Peninsula, to the countries that the Embassy of Riyah covers: Qatar, Oman, Bahrain and the United Arab Emirates. In Oman she visited an old bookshop, that after many years still exists, and used to keep her father busy, when he travelled as a young volunteer for Danmission. At that time Danmission managed bookshops all around the Arab world.
"There is probably no doubt that my experiences as a child have had its impact on the path a chose in life. The Middle East is a great and very diverse region and pretty early in my childhood I experienced that people can live peacefully together across different cultural, ethnic and religious backgrounds. The experience that people are capable of living together peacefully in the same region, which is unfortunately also marked by disagreement and conflict is also what motivates me in my work today", says Line Stange Ramsdal, Master in Middle Eastern studies at University of Southern Denmark.
Line Stange Ramsdals previous position as programme consultant in Hellerup will be filled by Maria Lindhardt. They will thus be exchanging positions in Danmission.