Lotte Bredholt, who is stationed by Danmission in Zanzibar, was ready in her running suit, as were the other participants, when a toy gun from the previous Eid-celebrations was fired to initiate the 5-kilometer race called FUN RUN around Stone Town, Zanzibar earlier this month. As a project consultant for the Upendo Sewing School for Christian and Muslim women, Lotte Bredholt herself has been involved in all parts of the preparations for the "FUN RUN" race, which, in addition to marking the opening of the Zanzibar International Film Festival (ZIFF), also was used to introduce and announce the upcoming Zanzihalf-Marathon.
"Before the FUN RUN race there had been many Skype conferences, and other forms of conversations, including with the award-winning Danish NGO called Right to Movement about a future Palestinian marathon, and a number of meetings in the local committee in Zanzibar with participation of the Upendo Sewing School, the Zanzibar International Film Festival (ZIFF), the UN population fund in Zanzibar (UNFPA), a couple of locals who established a similar race in 2012, including Masoud, who is a local restaurateur and entrepreneur, and Salim, who is a former marathon runner", tells Lotte Bredholt.
Recently, ZAAA, which is short for the Zanzibar Amateur Athletic Association, also became involved in the FUN RUN race as a partner. The decision to establish a race with the Danish NGO Right to Movement originated in their motto, which is "We run to tell a different and new story".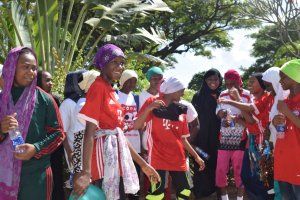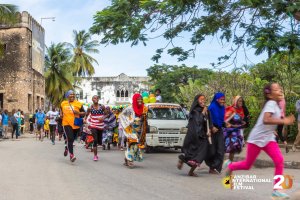 "The motto´s focus isn't just on poor, vulnerable girls in Zanzibar, but also on the 2030 Sustainable Development Goals (SDGs). We are currently in a historic paradigm shift, where sustainable development is expected with a clear call for activism", says Lotte Bredholt, and adds:
"When Upendo initiated the FUN RUN race a year ago, it happened as a direct consequence of the new global agenda, where new forms of innovative partnerships and networks were expected. For Upendo, the intention was partly to position itself in Zanzibar in their new large HQ with an increased
number of activities, and partly to take co-responsibility for the development of a sustainable civil society".
Mutual visions
To provide the necessary local ownership, Upendo initially addressed Zanzibar´s International Film Festival (ZIFF), which through their platform called Women Panorama for many years had drawn and still draw attention to women's rights, women´s social situation and the relevant legislation. "Women Panorama" works to support women through film, art and media and is primarily focusing on women in rural areas.
"Thus, the FUN RUN race aims at gathering women – and men – in a grassroots movement for women's rights, equality and a transformation of the traditional roles of women, so that women are increasingly seen as part of the solution, and not as now as part of the problem. In part, we aim to raise awareness of the activities that take place in the local organizations and seek new ways for networking and capacity building", explains Lotte Bredholt.
Upendo itself works to bring women of different faiths together to create solidarity, trust and peace between people of different faiths, and to fight poverty through teaching women crafts, which will eventually secure them an income. The vision is a Zanzibar, where independent women and men of different faiths contribute to an equal and peaceful society in which human rights are respected and social and economic prosperity for all is secured.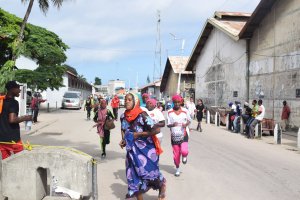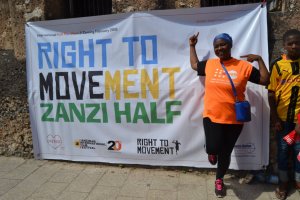 One step at a time
Sigrid Marie Lassen, who is a political science student, and who also is a student assistant in Danmission, too was present in Stone Town, when the many women and men participated in the FUN RUN race on 8 July 2017.
Sigrid Marie tells how more than 100 Tanzanian women had come to town and participated in the race in their colourful clothes. Elite athletes, including Olympic athletes, participated as well in the race, as did locals from Zanzibar and a handful of tourists who had heard about the race. Locals played live music along the route of the race. It was a merry day.
"Now follows a couple of months where Upendo launches the so-called `running communities´ to get more women to run. I talked to a couple of women, who were very interested in participating: `How often should I run to prepare for the Zanzihalf-Marathon in February 2018?´, asked one of them, `Once a month?´. I answered that it might be better to run three times a week!", laughs Sigrid Marie Lassen.
Lotte Bredholt as well witnessed the women's commitment, but also realized that some participants only made it a few hundred meters before they sat down at the side of the road, while others made shortcuts through Stone Town's narrow alleys, to quickly return to a "much-needed" rest and a cool breeze on the benches in front of the old fort, where the FUN RUN race began.
"But then again there were also women, who along with many children and young people, made it all the way to the end of the race", Lotte commented.
The road to the Zanzihalf-Marathon
"It can be a challenge to cooperate and coordinate with so many different organizations", Lotte Bredholt acknowledges.
"It is all about agreeing on mutual expectations, and compromising when necessary, for example when ZAAA wanted to invite professional elite runners from all over East Africa, in this case a total of 18 runners from 6 different African countries, to the Zanzihalf-Marathon. That was not exactly what we initially had in mind, which was an international race alright, but at the same time also a much more popularly rooted race", says Lotte Bredholt.
The documentary called "The Longest Race"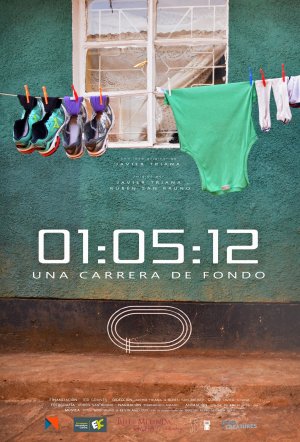 During the film festival in Zanzibar, which took place in the days following the 5-kilometer long "FUN RUN" race, the film "The Longest Race" was shown and debated. The film is about female elite runners from Kenya and Ethiopia, who run to generate an income for their families, while the men stay at home and take care of the children.
"We managed to invite one of the producers of the film, journalist Javier Triana, who was in Kenya to follow up on the stories of the film".
"The film in many ways changed our views of elite runners, and we have therefore called on the ZAAA to be gender-sensitive and ensure that there among the elite runners will be women participating in the Zanzihalf-Marathon, who can be role models for their families and communities", concludes Lotte Bredholt.
See the trailer for the film The Longest Race here
Read as well Lotte Bredholt's husband´s, Nik Bredholt, blog on "Globalnyt", called Pregnant women cannot attend school in Tanzania about the need to pay attention to African women's living conditions and rights.
You can sign up here to get more information about the Zanzihalf-Marathon. The registration to participate in the Zanzihalf-Marathon begins in August 2017.