Christina Kofoed-Nielsen herself has a daughter who is 16. This year Christina´s daughter is away at a boarding school. On her recent journey to Tanzania, Christina visited a school for girls her daughter's age. However, a very different school than Christina´s daughter´s school. At the school in Tanzania, which is a sewing school for albino girls in Shinyanga, the students have far more serious problems than any Danish boarding school pupil can imagine.
The 45-year-old Christina Kofoed-Nielsen is used to travel, and not only on chartered holidays. Both privately and through her work at Danmission, she has visited many foreign countries and cultures. For better or for worse. She has met poor people in Asia, the Middle East and Africa, who found it hard to make ends meet. Fortunately, Christina has also met poor people, who were full of hope for the future.
However, this recent journey stands out from the others. "It was more intense. This time there was no visits to successful agricultural projects. Only visits to children and young people. Innocents who had been exposed to the most terrible things. Several of them had been scalded or burned, beaten or raped", tells Christina Kofoed-Nielsen. As a team leader for collections in Danmission, she went to meet some of the people that Danmission and our partners in Tanzania help.
"Every time I leave for somewhere, I bring something with me that I can share with others. Something that breaks the silence between me and the people I come to visit", she says.
In the case of sewing school for girls and young women with albinism, where the students live behind barbed wire fence and armed guards, Christina Kofoed-Nielsen had brought a jumping rope.
"Usually when people contact the albino girls, it´s not because they want them something good. The girls therefore simply are not used to positive attention. Therefore, the jumping rope was a good way of making contact. We connected this way without anybody wanting something from the girls or wanting to hurt them. We simply for a while had fun together", Christina tells.
In fear of being kidnapped
Danmission's partner, the Lutheran Church in Tanzania, has supported the creation of the sewing school, where the girls learn the crafts and find a future income opportunity. The girls originally went to another craft school nearby. It was a mixed school, not all were albinos, but the albino students were exposed to various threats there.
"It was not safe for the albino girls to continue at that school. In Tanzania, there is a widespread understanding that it brings happiness and empowerment to own an albino bone. Likewise, it is a common understanding that if you have sex with an albino, you can be cured for HIV", says Christina Kofoed-Nielsen, while staring sadly into space. Therefore, several of the teenage girls at the craft school have become pregnant along the way.
"As a mother, it's difficult to bear how terrible these albino girls have been treated and how frightened they've been – and to some extent still are. They are afraid to be raped again, to be kidnapped and to be sold to witch doctors. They are protected while they are taught at the school. However, they live as outcasts of their society. Often even their own families have turned their backs on them". Christina Kofoed-Nielsen pauses and continues: "Gone are the uncles and aunts. Gone are the adults, who should protect them".
She thinks of her own daughter, who recently turned 16.
"I have of course brought the girls´ stories home with me. I am a mother, and my most important task is to let my daughter feel loved and meet other people. She should know that she is accepted and loved for what she is. Who tell the sewing school girls that?", Christina asks quietly without expecting an answer.
Although the answer to her questions is hanging in the air, Christina Kofoed-Nielsen is not in doubt that Danmission and our church partners in Tanzania make a difference for the girls.
"I have no doubt that it is important – and that we make a difference in cooperation with the Lutheran Church and the village councils".
At Anna´s place
On the bed is grandma Lea. She has an orange scarf wrapped around her pale, curly hair. With one arm, she supports her grand son Brighton, 1 year old, whose eyes are moving nervously in his head. The boy looks straight into the camera and resembles, expect for the moving eyes, an ordinary Danish boy. With short bright curls and slightly red cheeks. However, as an albino child in Tanzania, Brighton's situation is quite different than it is for children in Denmark. Brighton's father was black. He left Anna, Brighton's mother. Anna is one of the girls Christina Kofoed-Nielsen met at the school. Anna is lying on the bed behind grandmother Lea and Brighton. Anna lies with her younger sister. Anna´s sister is black too. Anna has not seen her family, including Brighton, for a month and a half. That is why Brighton does not sit with his mother, and stays in the company of grandma Lea.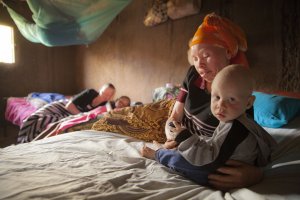 "Grandma Lea tried in a respectful and calm way to establish contact between Anna and Brighton, and succeeded. But it was clear that Anna was affected by the situation", says Christina Kofoed-Nielsen, who was invited to visit Anna´s family.
"Only a few times have I experienced that my questions have become too much. However, this was one of those times. As we sat at the table next to the beds, I asked where the remaining part of family lived. Lea did not respond immediately, and Anna started crying", tells Christina Kofoed-Nielsen, who cannot hide the great impression the family made on her. She pauses for a little while, and then continues:
"Then I asked Anna what she was so emotional about. Her reply was like being punched in the stomach, when she told me that no one in the family would know of them. I was completely stunned, and just had to tell her how wonderful I thought she is. The way she fights, and get an education, in order to take care of Brighton".
Christina Kofoed-Nielsen was in Tanzania for 14 days in May 2017, to collect information and stories from the projects, which Danmission supports in Tanzania. Brighton was just one of the many children Christina met, whose families are in crisis and need help. Not necessarily in the form of money, but support to change the views of the population on albinos. You support this work, among other things, when you support Danmission Fremtidsbørn.
The Church´s fight for albinos
Together with the Lutheran Church in Tanzania, Danmission helps albinos like Brighton. The village committees of the Lutheran Church can help bring albino children to orphans' home if there are no other options. However, it is also important to fundamentally change the population´s view of albinos, so that their lives and rights are respected. Therefore, the committees, where evangelists, sheikhs, schoolteachers, city council members and other key people in the local area are members, work for the albinos´ rights on village level, as well on the legal and political levels. To get rid of the abuses against albinos will take both a change of attitude and improvements of the laws, including punishment of those who commit wrong doings against albinos.
Because the Lutheran Church is strong in Tanzania, and people listen to the Bible's words, the Lutheran Church can and must help make a difference, so that albinos can live a dignified life without fear as God's beloved and respected creatures in line with all other human beings.