The Lebanese media were ready to send live from Beirut on Saturday the 20th of May, when new faithbased curriculum, which Danmission and partner organisation Adyan Foundation have been working on since 2013, were presented to the public for the very first time.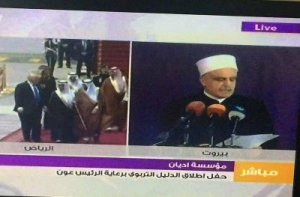 Citizenship and peaceful coexistence is the starting point for the material, which has been published relating to the project "Interfaith Education for Intercultural Citizenship" (IIC).
Danmission therefore established contact between Danish educational experts and Christian, Muslim and Drusian leaders in Lebanon, so that they together have been able to work out a new mutual definition of the concept "citizenship" based on inter religious values.
Various Lebanese religious leaders – among them leaders from Middle East Council of Churches, Lebanese Islamic Dar el Fatwa, High Shiite Islamic Council and Druze Council – were therefore present at the material´s presentation on Saturday morning to promote the project.
In addition, the Lebanese education minister, Marwan Hamade, also was present to talk about the exciting initiative.
Hailed by the president
The week before the release, the Lebanese president, Michel Aoun, had already praised the release. The president was the first to receive a copy of the material.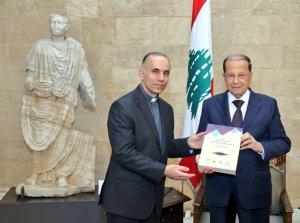 "I'm proud that we can now present our work, in the field of education in common values and inclusive citizenship, to President Aoun", writes Fadi Daou, Aydan Foundation's leader, on the social media Twitter.
Also on the president's own Twitter account, the project has been highlighted, when Fadi Daou and the various religious leaders were visiting the president shortly before the release.