It was not an unrestrained desire to see the world that led the teacher educated Else Højvang to travel 7000 kilometres southwards to become a missionary in Tanzania. Moreover, Else had never imagined that Tanzania would become her home for more than 27 years, and that she should become part of God's mission there.
But Else Højvang received a very concrete calling from God, to resume her work in Tanzania, when a clear voice in her living room, in Holstebro, Denmark, drowned her TV. At the time, Else had just recently returned to Denmark, from Tanzania, after 14 years teaching at Ntoma Home Craft School in Tanzania's Northwest Diocese. Else Højvang clearly recalls the voice that said to her: "You are going back to Africa", and how it was impossible for her to forget the calling, no matter how happy she had become for her new position as parish assistant at Holstebro Kirke (church). Else therefore contacted Danmission, and in 2004 she was posted to the north-west corner of Tanzania, where she stayed for an additional 13 years as missionary.
Else Højvang smiles at the question about whether God approves of the fact that she is now retiring. Else says that they have not talked about it yet. "But of course, it is in my prayers that God shall once again decide what I'm going to with my life", she says. After being thoughtful for a moment Else adds: "I think God has a plan for my future. I just don't know the plan yet".
Else´s Tanzanian family
In addition to her biological family, which Else Højvang is now reunited with in Denmark, Else has made strong personal ties to several African families over the years.
In 1993, the Danish missionary was invited in by a family, as was she a daughter of the family, and Else did not hesitate to extend her concept of "family" to include those who invited her in. Else´s "Tanzanian mother" died 14 years ago, but her "Tanzanian dad" is still alive, and Else has 11 siblings in Africa. In addition, Else has another family member in Tanzania, called Soespeter, who she became a godmother of, when he was baptized in 1988 at the age of 19 years. The following year, Soespeter asked Else to be "mother" for Soespeter´s future bride. Six children have since followed.
That Else Højvang leaves behind much more in Tanzania than her work, is clear to everybody. However, after so many years away from home, one thing is clear to her: Life is too short to miss things. "I have often been asked `don't you miss rye bread?´. However, I do not have time to think about things like that. There is so much good where I am".
The grace of being an outsider
It is impossible for Else Højvang to choose one specific year in Tanzania as the best or the most rewarding. However, there is no doubt that Else is proud of the development project called "Mayaja", in the Karagwe Diocese, which is now being implemented by local citizens. Else and the evangelists originally asked the families in the area, what their main problems were. Else tells: "Some had to walk a long long way to get to a health clinic. The church, which had previously built clinics, could have chosen to solve this problem. Others had to walk a long way to collect drinking water, so we could have helped by improving the water supply. But what everybody told us was that people lacked financial means and knowledge". Therefore, the "Mayaja" project focused on teaching agriculture, to strengthen the economy, and on teaching health, to reduce the child mortality rate, which was very high in the area, due to anaemia, diarrhoea and malaria. "The mentioned problems are all problems which can be solved", says Else Højvang. Else used the same approach when she later focused on Sunday schools, women's labour and collections for the church".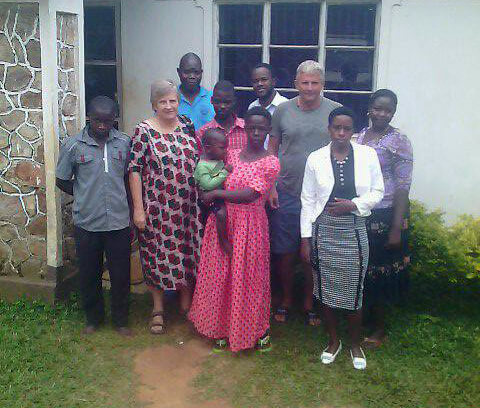 You do not have to talk to Else Højvang for long, or someone who knows Else Højvang for long, to understand that she has truly contributed to improving the living conditions for the local population. However, to Else Højvang it is important to emphasize, that in no way has she been alone in making a difference.
"All I did was to inspire and to initiate. In all my duties, I have tried to pass on the ownership to the individuals, who are to carry on after me. I don´t think there are things I am capable of, which others, for instance in Kyerwa, are not capable of as well".
As missionary you are blessed with what Else Højvang calls "the grace of being an outsider". This means to be able to see things from another point of view, identify problems and initiate projects or activities, which can cure the problems.
"And that's why, I believe that there is a need for missionaries, who live and work with local populations through their churches", Else says.
"I stopped counting waiting time"
If you ask Else Højvang about the biggest challenges of living and working in Tanzania, she will a little reluctantly mention "the waiting". Reluctantly, because waiting not only has been a challenge, but also because it has been a source of inspiration. Else is very aware of the fact that the Tanzanians´ casual relation to time, and deadlines, creates a completely new room for being present when together with others.
"Time is something everybody has in Africa. It may even be the only thing that everybody has. Here you have time for others. Time to talk and time to be together, when somebody is sick, or when somebody dies". We could learn from this at home, says Else Højvang, who often contemplates the concept of time and what it means for the development of Africa.
"Why is all development taking place in the northern hemisphere? I think the climate has forced our ancestors to always think in terms of time. People here have always needed to get things done. Before winter you have always had to seal the roof, it has been necessary to find sufficient wood and food before arrival of winter. We have grown up thinking about how to do things faster, better and more efficiently. But in the tropics, where there is food all year long, and always something to harvest, there is not the same need to always get things done".
After a short break, Else Højvang adds: "If we put our concepts of time in a blender, then we would be less stressed in Denmark, and there would be more development in Africa".
Will welcome foreigners
After 27 ½ years in Africa Else Højvang will have to get used to life, as a retiree, in Vristed, near Skive, where she grew up.
"All of sudden my world is wide open", she states. However, the empty calendar does not scare her. The voice from the TV room has not repeated itself this time, but she still feels God´s presence in the ideas she is getting:
"I would like to help arrange trips to Tanzania. The Danes need to travel and experience that humans are humans, no matter where they come from. When I hear how we talk about foreigners here, in the political arena here, in Denmark, I am happy that I was a foreigner in Tanzania for all those years, and not in Denmark. That´s why I also want to involve myself in the welcoming of people, who come here. I want to welcome them as I was welcomed myself".
Else Højvang laughs a bit of herself and the big plans, which are coming to her. Actually, she originally decided to relax more in Vristed, she says, and after a short thoughtful break adds: "I have not had any time to sew since 2007″.